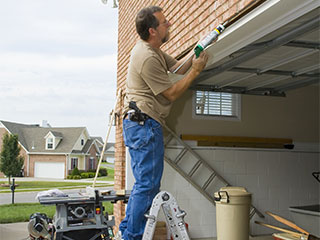 At Garage Door Repairs Winter Park, we are able to offer a professional service that covers all common (and rare) issues. From broken springs and damaged tracks, through to loose panels and emergency repairs, our experts can get your door back in working order.
The Best Garage Door Repair Team
Each member of our team is very experienced and highly trained, which helps them get to the root of your issue and find the solution to it. You can count on us to provide a quality service that emphasizes attention to detail and professionalism above all else.
Roller and Cable Repair Services
The rollers and cables used by your garage door are essential if it is to operate properly. If one of them gets damaged, you may find that your struggle to open and close the door, or that it doesn't extend as fully as it should. Our professional repairers are able to diagnose these issues quickly and have access to replacement parts from all brands if the problem can't be solved with a repair.
Torsion and Extension Spring Replacement
Garage doors use a number of springs, each of which experiences a great deal of tension every time the door is used. Over time, this will lead to wear on the springs, which can result in them getting damaged. We are able to work with both torsion and extension springs, meaning you don't have to face the safety risks of working on an issue that has the potential to cause injury.
Broken Panel Replacement
The panels are essential for protecting the garage's contents when the door is closed. Damaged panels weaken the integrity of the door and leave it vulnerable to intrusion. Our garage door repair service covers panel replacement for all major brands.
Get In Touch
The range of services we offer is extensive and we place customer satisfaction at the top of our list of priorities. If you would like to find out more about what we have to offer, please don't hesitate to get in touch with us today. Our professional team will get your door operational again in no time.
We also offer the following services:
Part Replacement & Lubrication
Screw Drive Opener Replacement
Extension Spring Adjustment
Overhead Door Repair & Installation