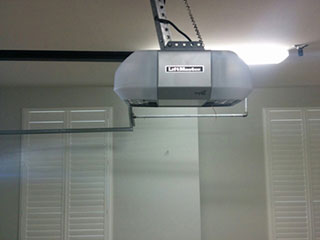 For all automated garage doors, the opener is one of the most crucial components since it powers the door and provides it with lift, essentially making it easier for a user to operate. As amazing as garage door openers are, even they may face troubles from time to time. They may become worn down, damaged by rust or corrosion, or may become harmed by accident. That is why our team of trusted technicians are here to provide you with the best possible installations, repairs and maintenance services for your doors and openers, to ensure that you keep getting the most out of them. Here's how we can help you right now.
Garage Door Opener Installation
If you are looking to have a new door opener installed in your home, contact us and one of our experienced experts will install the model of your choice or you. We work alongside well-known manufacturers of original parts to ensure that you get the highest quality components for your installation. Furthermore, all our technicians work with accuracy, care, and speed, to ensure that your installations go off without a hitch and that you can start enjoying the benefits of an automatic door as soon as possible.
Maintaining Garage Motors
Even the best garage door openers get damaged over time if they are not properly looked after, especially those that operate in harsh weather conditions. This is why the maintenance of your openers is so important; it helps protect your system from damages and ensures that it continues to work effectively while pushing back the need for costly repairs and replacements. Speak to one of our technicians for further information on our maintenance offers.
Repairs and Replacements for Openers
When your opener fails, it can make it extremely difficult to operate your door and secure your home, which is why you need a partner that can help you with replacements and repairs whenever they are needed. Our team specializes in repairs on faulty openers and is able to source any spare part you need.
Contact our Technicians for Details
Give one of our consultants at Garage Door Repair Winter Park a call today to find out more about our various offers related to garage door openers and their many components. We can install, maintain, repair or replace your motor for you today.
If your automatic garage door is located somewhere closer to the lower part of Florida, rest assured that help is still available. For those that need help with a garage door opener that is not working or some strange movement issues, there's someone to call even around those parts. It's good to seek expert assistance with complex problems like these. That's why you should contact the best experts on garage door opener repairs in Miami and get a fast solution to any problem.
In addition, we offer:
Garage Door Opener Track Maintenance
Opener Sensor Repair & Replacement
Garage Door Extension Spring Replacement
Roll Up Garage Door Services