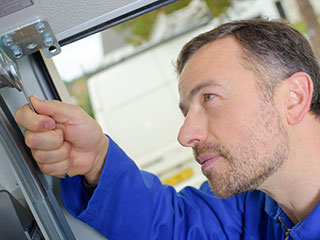 While garage doors are an excellent addition to any home, they do operate under a lot of pressure. This means that over time, they will likely sustain damage from a range of sources like unfavorable weather conditions, accidents, or simple wear and tear. Our team of garage door maintenance technicians understands the importance of maintaining the health and condition of your door, which is why we offer a range of restorative services to local customers. We offer replacements, inspections, and minor repairs, and in doing so, can assist you with the health and extended lifespan of your door.
Replacing Worn-Down Parts
Most of the components in your garage door will suffer damages through prolonged usage, either from weathering, corrosion, rust or simply from old age. When this happens, your door's performance, security, and safety can be undermined, which is why you should have these parts consistently monitored and replaced as soon as possible. Speak to us today to have components such as garage door springs replaced to ensure that your door is always working as it should.
Garage Door Maintenance on Safety Features
Sensors, springs, safety cables, and opener reverse functions are but a few of the crucial safety functions which protect you and your family from injury or damage when using the door. These features need to be inspected regularly and should be replaced or repaired when the need arises. Speak to us today for details on having your garage door cable replaced, while your other safety features are inspected and dealt with accordingly.
Repairing Broken Components
You will need to have some of the components on your garage door replaced from time to time since they will likely suffer some damage throughout their usage. Our team works closely with manufacturers of original garage door parts to ensure that you get exactly what you need.
Contact our Technicians for Details
If you would like to know more about the various garage door maintenance services that we offer to homes in your area, give Garage Door Repair Winter Park a call today and speak to us for further details.
Couldn't find what you're looking for? We also offer:
Torsion & Extension Springs Adjustment
Genie & Liftmaster Opener Repairs
Galvanized Torsion Spring Installation
Garage Door Off Track Repair