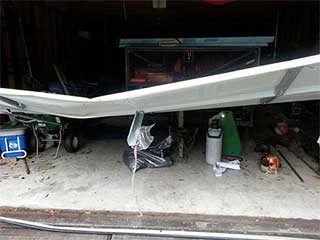 A Dangerous Business
With most garage doors in our homes weighing as much as they do it is not hard to see why handling them on your own might be a very costly mistake. The last thing you want to end up with is a damaged door, floor, or in the worst case -hurting yourself. And believe it when it comes from us; such accidents occur far more often than you would imagine.
What Could go Wrong
Improper handling of your door components can lead to trouble and specific design of each door makes the matter worse. Sometimes, only specialized parts and material can be used for your type of door and you might be unaware of this. At first, it will all seem smooth and lovely, but it will break sooner rather than later. Not knowing exactly what makes your door go up and down could result in far worse damage from the initial one. Besides using wrong parts, you might be focusing on the wrong aspect of your door. If you are an average layperson and don't really know how the mechanism works, we advise you to give us a call no matter what the malfunction is. Otherwise, you might be spending your valuable time in a dangerous effort to fix a problem with no research undertaken in advance. What you will most likely end up is just fixing the symptoms of your problem instead of resolving the root issue. This is a waste of money and a potential liability.
Think Twice Before you Act
You can now understand there are many things that can go wrong with attempting to fix your garage door on your own. Your role should be to maintain the door to the best standard and prevent any malfunctions from occurring in the first place. Test the mechanism once a month and make sure to prevent any physical damage happening to any of the components. Once the door stops working, think twice before deciding to have a go at fixing it yourself. Particularly if you own an older model as these will carry higher risks and can be even more dangerous to handle. Stay safe out there!